Question time for East Quay bosses
Wednesday 19th January 2022 12:00 pm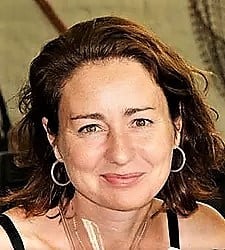 Georgie Grant.
Subscribe newsletter
Subscribe to our email and get updates right in your inbox.
QUESTIONS ranging from how much they earned, to how well they communicated with the public, were fired at three directors of Watchet's Onion Collective when they faced members of Somerset West and Taunton Council's community scrutiny committee.
The developers of the town's controversial £7 million East Quay arts and community centre, which opened last September, gave members a progress report on the scheme and were congratulated on an 'innovative and vibrant' project which was 'the envy of other parts of the area'.
Leading the one-and-a-half-hour discussion, director Naomi Griffith said: "It's been a long journey but we couldn't be more proud of how the building feels and the impact that it's having. We have a catchment area of 1.5 million people who we hope will visit the project."
She said the project currently had 27 staff. It was hoped that it would lead to at least 100 indirect jobs and would bring in £2 million a year in social and economic benefits.
"We are an ambitious professional organisation and are happy to take risks and do things differently while helping the local community to build a strong economy," she said.
"We challenge the status quo and are not afraid of trying something new."
She recalled that when the enterprise started ten years ago it was primarily to address the lack of cultural activity in the area and promote education, and this remained a major driving force today.
Cllr Loretta Whetlor, who represents Watchet and Williton, told Ms Griffith and fellow directors Georgie Grant and Sally Lowndes: "I have been one of your strongest critics and I have also been one of your supporters. I know that sounds like a dichotomy but I 'm not that keen on your building but I like what you do inside it."
She added: "I don't think it has been made clear enough to people exactly what you wanted to do and how you wanted to do it. People don't understand and they say: 'What are they going to do with all that money?'
"The community is very divided. There has been a lot of rumour and counter rumour about what and how you get paid. Are you paid from grant money or are you paid from money that you make?
"Have you now got all the funding that you need to complete the building or have you got further work to do? Opinion is divided at the moment, which is a shame because the East Quay should be something that pulls the community together."
Cllr Dawn Johnson added: "A lot of people aren't happy and I don't know how that's come about. Some of what I hear is all about the funding you have received and how that has been utilised. You have now got to establish something and make it work long-term."
She added: "Have you got a long-term business plan? I am not hearing how you are going to build bridges with your critics and bring those people into your world. There are people who really do have issues and these need to be resolved."
Ms Griffith said: "We have got all the funding in place and have reached a final sum agreement with the contractor.
"It's up to us to find different ways of communicating with people. It will never get to the point where everybody loves the East Quay but a lot of people have had doubts about it and then once they get inside, really enjoy it. It's an exciting journey for us to keep finding ways of connecting with people.
"No-one will like everything we do but hopefully most people will find something along the way. Engaging with the community has always been very important and we have changed and adapted our work after hearing the reactions of local people.
"We are attracting top flight national and international artists and are really proud and excited to have them working in our building. We are also delighted to have local businesses, including print-makers and a traditional paper-maker.
"Since the East Quay was opened to the public in September we have already exceeded the figures we produced in our original planning modelling."
Ms Griffith told the committee: "We have been really pleased by the media reaction. The building and the work that we're doing has been really well received around the country and has twice been named as one of the top ten architectural projects of the year."
Answering questions about financial aspects of the venture, she said that the five directors were each paid £35,000 a year. The Onion Collective was a community interest company and no dividends were paid to directors. Instead, any profit went back into the company.
Income was raised by a wide range of consultation work and other activities and experienced advisers provided long-term business plans and financial guidance.
Committee chairman Cllr Libby Lisgo congratulated the directors on their ability to answer a wide range of questions, 'some more intrusive than others'. She added: "Your vibrancy and willingness to push boundaries are things that should really be applauded. Good luck for the future."
Comments
To leave a comment you need to create an account. |
All comments 0