Winsford RBL represented at Ypres pilgrimage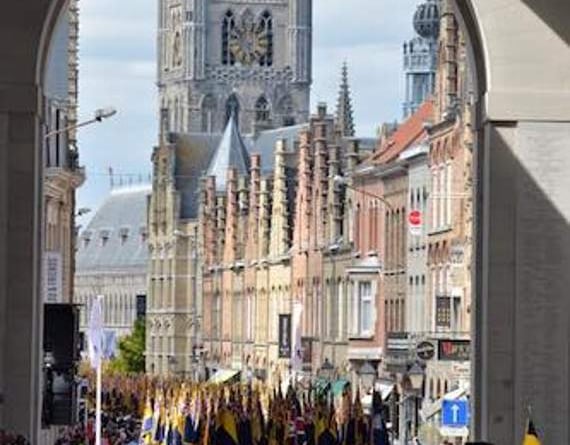 Subscribe newsletter
Subscribe to our email and get updates right in your inbox.
TWO members of the Winsford and Neighbour Parishes Royal British Legion joined more than 1100 other branches on a pilgrimage of Remembrance that culminated in a parade and ceremony in Ypres last week.
The event, known as Great Pilgrimage 90 (GP90), marked 90 years since the original British Legion Pilgrimage in 1928 when 11,000 World War One veterans and war widows visited the battlefields of the Somme in France and Ypres in Belgium.
Peter and Sarah Collins joined the pilgrimage on Wednesday, August 8 – the anniversary of the Battle of Amiens, which began the 100 days offensive that led to the capitulation of Germany and the signing of the Armistice on November 11.
In 1928, the British Legion was in its very early years, and the Menin Gate Memorial – bearing the names of 55,000 fallen who have no known and otherwise marked grave – had only recently been completed.
Apart from a few times during World War Two, the Last Post ceremony has been carried out at The Menin Gate every evening at 8pm since 1928 by buglers of the Ypres Fire Brigade.
This year's three-day visit culminated in the GP90 march-past at Ypres where Peter marched with the 1100 other standard bearers and Sarah with the wreath bearers.
"During the minute's silence after the Last Post, thousands of poppy petals appeared in the air and drifted over the massed standard bearers and public. A very moving experience," said Peter.