Steampunk fires up Minehead
Wednesday 11th May 2022 4:00 pm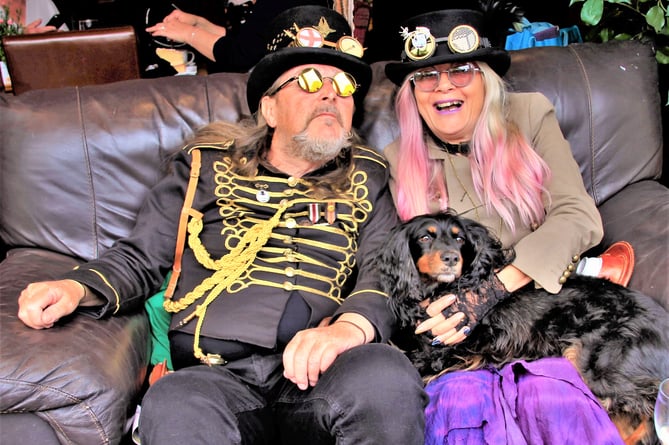 Steampunks in Minehead
(George Ody )
Subscribe newsletter
Subscribe to our email and get updates right in your inbox.
MINEHEAD turned the clock back over the bank holiday weekend with a vibrant Victorian steampunk festival that is set to become a regular feature in the Minehead calendar.
From Friday evening until Sunday night the streets and public spaces were alive with colourful original outfits inspired by the fast-growing band of SP enthusiasts drawing their inspiration from a wide range of genres ranging from Victorian ladies in long skirts to Jules Verne characters in old-fashioned sea faring uniforms, top hats and industrial welding goggles.
Throughout the weekend, steam-powered vintage traction engines and lorries puffed along the Avenue, thrilling spectators and carrying excited passengers.
A dazzling array of entertainers kept audiences clapping, smiling and dancing in almost every bar and café.
Steampunk enthusiasts included Alan and Cathy Binacle, who travelled from Weymouth. "Three years ago we enjoyed Minehead's first steampunk event so we have been looking forward to something larger with more variety," Alan said. Cathy added: "We were not disappointed, have enjoyed all the sights and sounds on offer and hope steampunk in Minehead will become an annual event."
Newcomers to steampunk and many seasoned fans enjoyed a well-stocked market of clothing and paraphernalia at The Old Hospital where snacks, drinks and live entertainment proved popular.
One local newcomer to steampunk told the Free Press: "It's amazing the variety of nostalgic bits and pieces on offer. It's great."
Among the entertainments were 1950s singers May Blossom and Alma Twist at The Sugar Bar and Stones, while classically-trained mezzo soprano Helena Payne hit the operatic high notes in Bar 21 as The Singing Siren.
For the younger crowd, foot-stomping band Filthy Spectacula set the scene at The Hairy Dog, while The Man from Funkle got everyone grooving to his disco beat at Bar 21.
Visitors with a particular interest in steam vehicles were catered for with vintage vehicles ranging from a 1920s Allchin traction engine and trailer (the last one ever built) that carried passengers up and down The Avenue. The rig is owned by Mike White of Huish Champflower.
Simultaneously, another 1920s original, a Foden steam lorry cider tanker, chuffed up and down the main street. It is owned by the Davey Family from the New Forest.
Smaller farm vehicles from the post-steam era included a 1937 Alice Chalmers tractor owned by the Robins family of Selworthy from new. A rare "hot bulb" Landini tractor from 1952 proved popular with enthusiasts young and old.
Youngest member of the All Chin traction engine crew - giving passengers rides throughout the weekend - was 11-year-old Henry Reid of Langley Marsh. Crew leader Aaron Watts said: "Henry absolutely lives and breathes traction engines. I don't think he was off the foot plate all day!"
Popular theatre events included a steampunk cabaret at The Avenue Methodist Hall featuring the very traditional folk songs of local trio The Wooden Suits; the exciting Spanish and Easter European style of Rusty Compass, exotic dancer Kitten Von Mew, the intriguing Victorian kiss-and-tell story teller, Violet Hugh and colourful compere Greg Chapman ensuring seamless continuity.
There was much appreciation for the enthusiastic singing from supporters of Minehead Dementia Action Alliance who set up camp in Blenheim Gardens.
Proceedings were brought to a finale at The Minehead and District Social Club on Sunday night courtesy of Rusty Compass and the multi-talented Greg Chapman.
Alison Prior, event organiser said: "It was fantastic to be able to celebrate the May Day weekend with such a spectacle. I am grateful to Toni Bloomfield and Gateway Events for their superb support in assisting with the event, which saw thousands of people enjoying the many acts, stalls and entertainment."
Karen Morledge, manager of event funders BID, who helped marshal the festival, said: "It was wonderful to see the town so busy as people turned up in spectacular vintage outfits.
"Minehead was literally buzzing as a result of the event and businesses reported very good trading conditions, which is exactly why BID supports events like this.
"I'm delighted that the event was so successful for everyone and the Minehead Victorian Steampunk event will return next year during the May Bank Holiday weekend and it promises to be even bigger and better!"
Comments
To leave a comment you need to create an account. |
All comments 0