THE curtain came down on the second Dulverton Exmoor Literary Festival on Sunday evening (November 19) to rapturous applause and fabulous feedback from the speakers, sponsors, and members of the audience, writes Ali Pegrum.
Author Michael Morpurgo's talk on Sunday was an event highlight, where he chatted with writer Alice Thomson about his classic 'War Horse' and treated an audience of all ages to a reading of a poem about the tortoise and hare, and even sang a beautiful folk song. 
Rachel Johnson's enlightening talk about her life in the political arena attracted another huge audience, in conversation with art critic Rachel Campbell-Johnston.
Writers Julian Glover and Victoria Eveleigh discussed the complexities of the use and protection of the countryside, in the company of a fascinated audience which included many Exmoor farmers and landowners.
'Duchesses Behaving Badly' became the in-house title for a lively talk with historical biographers Andrew Lownie and Catherine Ostler.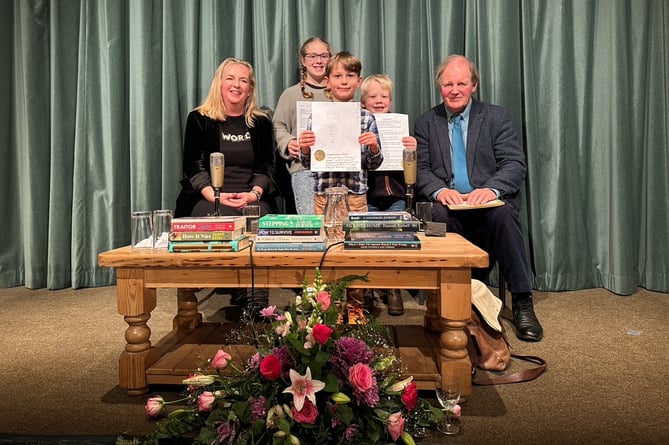 Michael Morpurgo and Kate Lord Brown with the winning children's writers at Dulverton Exmoor Literary Festival.
(Visit Dulverton)
Their books about Edward VIII and the Duchess of Windsor, and the 18th century Duchess of Kingston sold like hot cakes in a pop-up event bookshop run by Waterstones of Barnstaple.
Other topics in the weekend's programme included railways, wine, the benefits of challenge and adventure, and creativity in its many forms – the latter with writer Albert Read, celebrity photographer Harry Borden, and editor Miranda Taylor.
Lovers of fiction were treated to a talk with three remarkable novelists – Sarah Turner, Hannah Richell, and Janet Ellis – all of whom have new books in the pipeline coming soon.
Janet, a former Blue Peter presenter, said 'the atmosphere could not have been nicer, and [the whole event] sparkled!'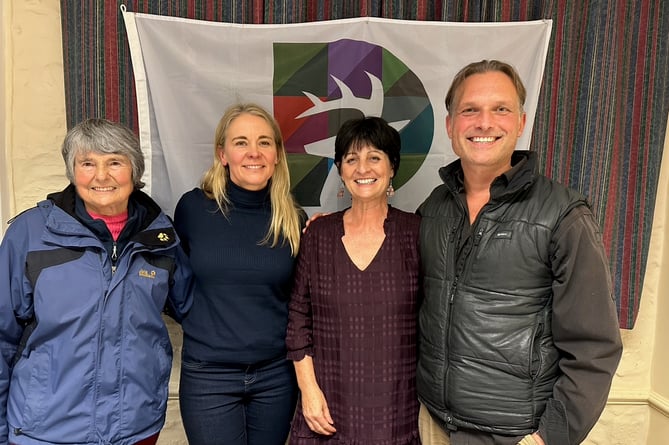 Travel publisher Hilary Bradt with (left to right) British explorer Belinda Kirk, festival director Ali Pegrum, and survival expert John Hudson.
(Visit Dulverton)
Historical novelist Kate Lord Brown judged the festival's children's writing competition with Michael Morpurgo handing prizes to winner Fergus Brewer, aged six, and runners-up Amelia Toms, aged 12, and six-year-old Jack Richards.
Fergus's imaginative and creative story delighted the audience and can now be found on the Visit Dulverton website.
Some of the online feedback fort he event included comments such as 'the Exmoor event of the year,' and 'congratulations on creating the most wonderfully diverse, yet completely connected literary festival.'
The event was sponsored by local businesses Tozers Solicitors, Amicus Law, Stockham Farm Exmoor, The Exclusive Cake Company, Exmoor Character Cottages, Exmoor News, First Design, Hedley Price, Jeff Pegrum Landscaping, Maitland Walker, Osteo and Physio Tiverton, Risdon Hosegood, The Sip Shed, Town Mills, Ware Construction, Wellhayes Vineyard, Winsbere House, The Bridge Inn Dulverton, James Pryce Tractors, Masons Kings, Rothwell and Dunworth and Fabula Arts.