Flood-hit pub set to re-openThe Star Inn emerges from2ft of water…
Wednesday 26th January 2022 5:00 pm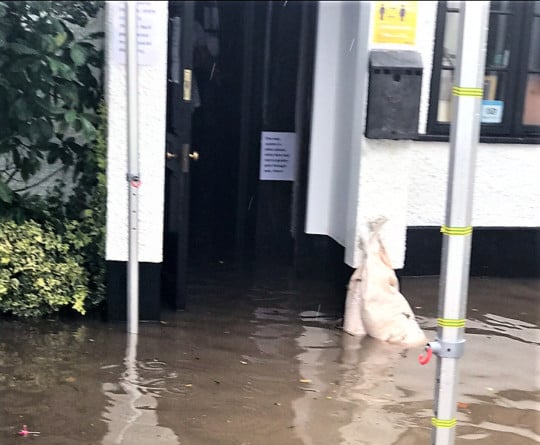 Flood water pours into the Star Inn.
Subscribe newsletter
Subscribe to our email and get updates right in your inbox.
A WATCHET pub will finally celebrate its re-opening on Friday (January 28), 18 months after a flash flood devastated the 400-year-old building with two feet of water within 15 minutes.
For Ross Nuttycombe of The Star Inn in Mill Lane, it is the light at the end of a long tunnel after first putting everything on hold with the pandemic, then a year of having to have everything in the pub ripped up and replaced because of flood damage, and final disappointment with delays that meant he missed the summer trade.
"It's the little things I'm looking forward to now," he said. "Like the smile on someone's face when you've given them a good meal, having a drink with one of the locals, seeing people and generally catching up."
It was on August 16, 2020, at the end of the lunch trade, when the heavens opened and within 15 minutes the pub was under two feet of water.
Ross, who has owned The Star Inn for the last 15 years, said: "I've never experienced rain like it or seen anything like the sheer amount of water. It started at the top of the road and just ran down here and turned it into a lake. The fire brigade came and helped, trying to clear the drains, which were overwhelmed. It looked like a beach with all the pebbles and rocks."
Even the pub garden, which is eight foot higher than the building, was ankle deep in water, while the thick plaster of the building absorbed the moisture like a 'giant sponge'.
Ross, who lives above the inn, said the upstairs was fine, which meant he and his family did not have to move out while extensive work went on throughout the past year, to get everything back to normal.
"My wife Christy and two children have been massively supportive, because I can't imagine I've been easy to live with," he said. "I was absolutely devastated. There was the pandemic, then to have the flood in August - of all dates - was devastating and my mental health took a real knock."
Everything in the pub had to be ripped up and reinstated as close to the original as possible, but it has been a slow process because of all that had to be done.
"It was all in the lap of insurance companies, and I was on the phone morning, noon and night to chase people," said Ross, who had to get a second job in Taunton from before Christmas to March last year, until the building work really took off.
Plans were in place for a grand re-opening on August 2, 2021, but ten days before he was told the electrics and gas could not be finished in time, because of a main line problem that meant connections had to be dug out and redone.
"There was nothing we could do to prevent the delay but it meant the summer was gone," said Ross. "It was very frustrating. We had Somerset CAMRA coming down and people invited but had to cancel. But you just have to take the problem in your stride and carry on."
The work to get the pub ready again has been 'a nuts and bolts rip out and refurbish'.
The floor had to be re-done, the wall taken back to the original brick so that it could dry out and be treated, with 12-18 inches of plaster ripped out, all the woodwork - much of it original - ripped out and replaced, the whole bar and kitchen replaced.
"We have tried to make it in keeping with how it was, and have kept it as quaint and interesting as we could," said Ross.
Although the insurance covered all that was flood damaged, other things that suffered secondary damage, he has paid for himself.
He said: "I tried to use local companies as much as possible, because I'm a great believer in that and it's people you know and see every day, but I couldn't do as much as I wanted because the insurance companies have their own contractors."
Now the work is complete and it is full steam ahead for The Star Inn. "I'm really looking forward to being open again as a trading business," Ross added.
Comments
To leave a comment you need to create an account. |
All comments 0