MORE than £20,000 has been shared with six West Somerset groups in the latest round of Co-op local community funding.
Community groups from Minehead, Dunster, Williton, and Watchet benefited from the programme, which allows Co-op members to support local causes by choosing which organisations should receive the funding.
A total of £20,522.10 was been distributed among the six groups, each of which provides much-needed support for their important work in the community.
Minehead Dementia Action Alliance, a group dedicated to improving the lives of those living with dementia and their carers, received £2,115.61.
The Regal Theatre's Oasis Group, in Minehead, was awarded £2,087.51.
A cheque for £1,649.70 went to the Friends of Dunster First School, which supports the village primary school.
Williton store manager Fay Whitehead, Co-op community member Sarah Burnett, and Liddymore Road Watchet store manager Kevin Dodd present a cheque to Williton War Memorial Ground committee members.
(Co-op)
To mark the presentations, a celebration morning was held in Cafe Connect, a Minehead community cafe, with free tea, coffee, and cake.
The 1st Watchet Sea Scout Group, which provides opportunities for young people to learn and grow through scouting, received £4,699.96.
Community garden project Seed of Hope Watchet was awarded £3,952.27.
The Williton War Memorial Recreation Ground charity, which maintains the park and playground, was presented with a £4,027.66 cheque.
The money came from the sale of Co-op branded products and services, with two per cent of the purchase price being given to community funding.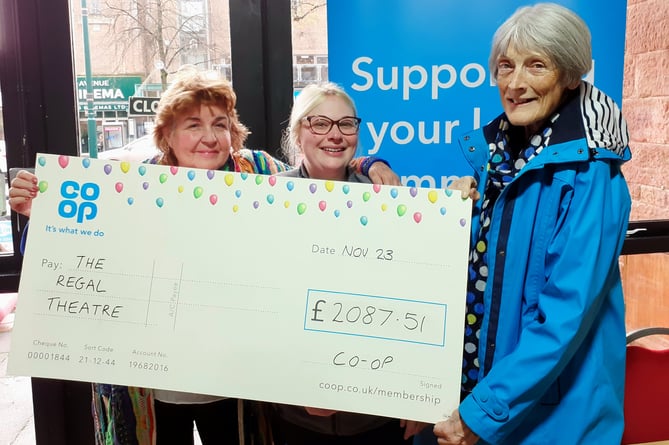 Minehead Regal Theatre chairman Monica Hartwell and Georgina Charnock, from Oasis, receive a cheque from Co-op member pioneer Sarah Burnett.
(Co-op)
Since its launch in 2016, the Co-op Local Community Fund has raised more than £39 million for thousands of local organisations across the UK.
Co-op member pioneer for the Minehead and Williton area, Sarah Burnett, said: "The Co-op Local Community Fund is proud to support these six organisations and looks forward to seeing the positive impact they will have in their communities."
More information about the Co-op Local Community Fund and how to become a member can be found by visiting its website or using the Co-op app, which also gives members weekly offers on shopping.