MORE than 60 people have signed up to an exclusive Exmoor business networking session being held on Thursday (November 23)
Exmoor National Park Authority (ENPA) is holding the event to bring together local business people with its staff and also representatives of the Federation of Small Businesses, Somerset and North Devon Councils, and Visit Exmoor.
There will be speakers from local businesses giving a series of short presentations to share their insights, challenges, and suggestions to inspire others.
It also provides an opportunity for valuable networking over a light buffet lunch in the Moorland Hall, Wheddon Cross.
ENPA rural enterprise manager Dan James said: "It will be an opportunity to meet with likeminded businesses and partner organisations, to catch up on what has been happening and what is coming in the months ahead with a series of short informative presentations, business case studies, and plenty of time for networking."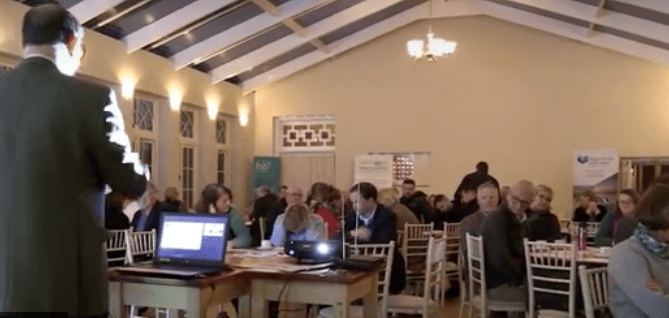 National park rural enterprise manager Dan James addresses an Exmoor Hill Farming Network meeting.
(ENPA)
The event follows publication of a new vision for Exmoor's future economy which has been developed by the park authority after nearly two years of research and consultation with businesses, communities, and stakeholders.
Mr James said: "The overall aspiration is for Exmoor to have an economy building community wealth, sitting lightly in its environment, and creating opportunities from its special qualities.
"It is a vision about creating opportunities for entrepreneurs to develop their ideas, for people to thrive, and for the environment to recover.
"It identifies two major factors which are driving change both in the economy and wider society and which demand a response – an increasingly green agenda as a result of the climate and nature emergencies and a more technologically driven digital world.
"In order to achieve the vision a number of priorities, propositions, and proposals have been identified.
"The Rural Enterprise Exmoor Partnership will be pursuing opportunities to fulfil the vision and the opportunities identified."
Thursday's networking day will be split into two sessions, the first between 11 am and 1 pm to discuss the economy, making businesses greener, growing a business, and planning matters.
The second session will run from 2 pm to 4 pm focused on issues relevant to those in the visitor economy, covering marketing plans for 2024, current projects, making a business more accessible and green, linking to nature, and an inspirational session from national park and National Trust rangers.